Seattle Storm players, WNBA president Donna Orender (with mic) and Anne Levinson celebrating 2010 WNBA Championship
2010 WNBA Champions Seattle Storm will be honored this afternoon by President Obama in the White House Rose Garden.  The Storm won last season going undefeated the entire season at home and sweeping the playoffs.  It was a spectacular victory.
And it never would have happened if four local businesswomen — three of them openly gay — hadn't decided to save the team from Clay Bennett's Oklahoma-based group which wanted to take the Storm to Oklahoma City with the Sonics.
Anne Levinson, Ginny Gilder, Lisa Brummel and Dawn Trudeau formed a new ownership group called Force Ten Hoops in hopes of negotiating a deal with Bennett's group to keep the team in Seattle.
Negotiations weren't easy, as Bennett's group had been resistant to overtures from other groups interested in buying the team.  Ultimately it was Levinson who persuaded Bennett to sell.  She also negotiated a long-term lease allowing the Storm to continue playing at KeyArena even without an NBA team, set up their Foundation and practice facility, and served as the chair of the ownership group.
As chair of Force Ten Hoops, Levinson became the nation's first openly gay person to hold such a position.  A trail blazer, Levinson was one of Washington state's first out public officials, serving two Seattle Mayoral administrations during which time she helped Seattle become the second city in the nation to provide domestic partnership benefits (San Francisco was the first).  Levinson was also the nation's first out State Public Utility Commission chair, among the first out judges in the state, and chair of the Approve 71 campaign.
You will recall the result of the Approve 71 campaign: On election day 2009, Washington became the first state in the nation whose electorate voted to approve a relationship recognition law for LGBT families.
In 2008 both Governor Chris Gregoire and Anne Levinson served as Grand Marshalls of the Seattle Pride Parade.  Today, the Seattle Storm is being feted by President Obama.  It's a good sign for the future that women — both straight and gay — are getting the recognition they deserve as being among the nations most capable and inspiring leaders.
Watch live today at 1:50 PM EDT. Watch the archived video here.
Update: Pictures and remarks will be posted below as they come in.  I'm liking this screen shot.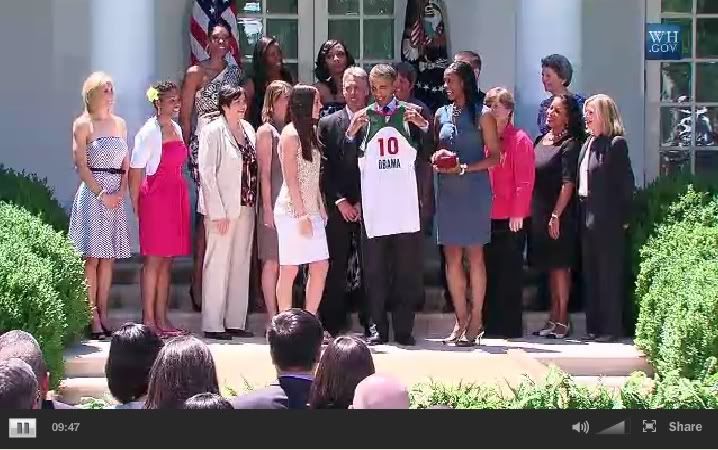 Screen shots from the live webcast of the event:
Those cheering on the Storm at the White House included Secretary of Health and Human Services Kathleen Sebelius, Anne Levinson, Commerce Secretary Gary Locke, U.S. Senator Patty Murray, Mona Lee Locke, King County Councilmember Larry Gossett, Seattle Mayor Mike McGinn and Deputy Secretary of Housing and Urban Development Ron Sims:
2010 WNBA Championship Trophy glinting in the sun: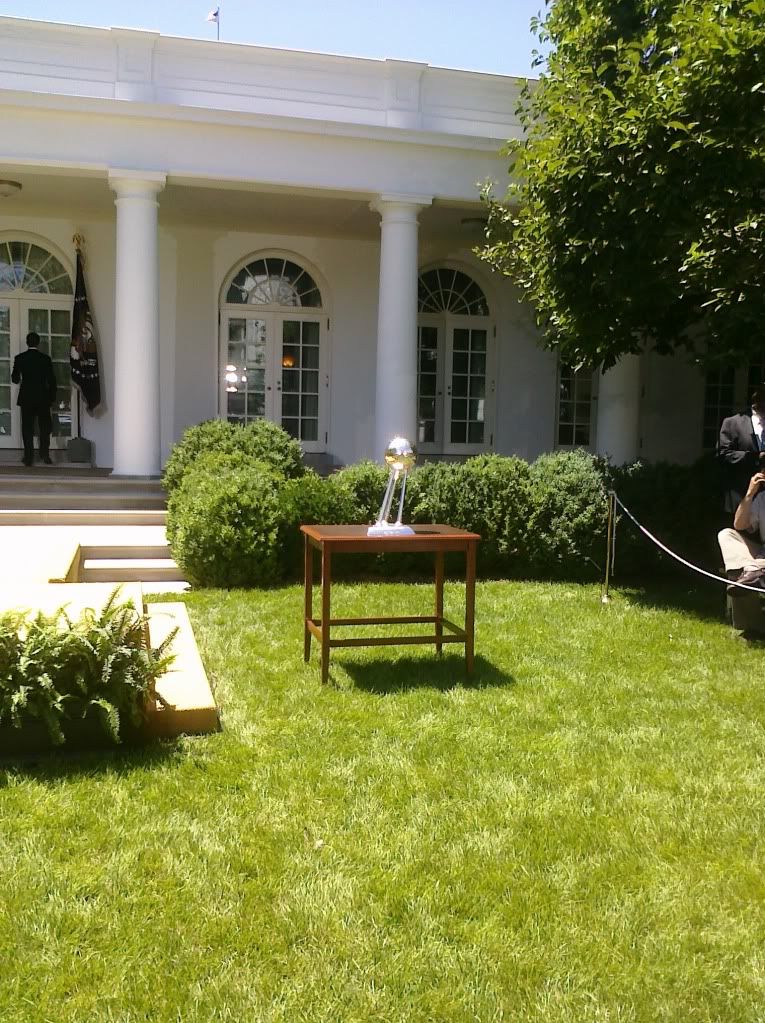 After welcoming the team and guests, President Obama made the following remarks:
A few weeks ago, WNBA tipped off its 15th season.  And in that time it has become the most successfuil womens professional sports league in the world.  Attendance is up, ratings are up, basketball is now the most popular sport for girls in the nation.  That's worth applauding!  [Applause]

To WNBA President Laurel Richie and everybody else who makes this possible, congratulations.  We are very very proud.

Today though is about the Storm.  Three years ago when this team's future in Seattle was uncertain, four season ticket holders joined forces to become co-owners.  Now they're also the first all-female ownership group in American history to win a championship.

Congratulations to Coach Brian [Agler], three winning seasons in a row, 2010 Coach of the Year, Championship Ring.  Not bad.

And he had a special team to coach.  They tied the record for the most regular season wins, went undefeated at home, became the first team in WNBA history to go a perfect 7 and 0 in the playoffs to the title.

This was no fluke.  It was the result of true teamwork and unselfish playing.  When you meet these women, you can't help but be struck by their humility.  You ask them how they'd describe a champion, and they say things like "somebody who makes the people around them better".

There's guard Tanisha Wright, who when asked that same question said "Tanisha Wright".  But the rest are humble.  [Audience laughter]

Lauren Jackson, who couldn't be here today but was there every time she was needed last year picked up her third WNBA MVP award and her first finals MVP award.

Forward Camille Little iced the championship game by draining two clutched freethrows with six seconds left.

Swin Cash and Sue Bird, they're no strangers to the White House.  Both know something about perfection from their time playing college ball at U-CONN.  In fact we can't get rid of Swin.  You know I think she's got a cot here somewhere.  She was here as part of teh Detroit Shock championship team, she volunteered to read to children at an Easter Egg roll, she helped out with our Fathers Day mentoring BBQ.  So Swin, thank you for going above and beyond the call of duty.

You see the Storm family understands that being a champion doesn't stop when you step off the court.  And that's why they're playing their part in the the life of Seattle communies by running healthy lifestyle programs for girls, and reading and mentoring in the schools.

And today they're bringing that commitment to the White House.  After we're done, they're going to hold a clinic for young people on the basketball court as part of the First Lady's Let's Move initiative and the WNBA Fit program.

I was telling Coach, as somebody who had an extraordinary time this year coaching a couple of games of Sashas, I can tell you that nothing gets me more stressed — but also nothing gave me more satisfaction — than seeing young girls get confidence and improve and learn how to be competitave and still good sports, it is just wonderful.  And since I'm usually surrounded by strong women in this house, seeing these young ladies behind us is a special pleasure.

Michelle and I are always trying to teach our girls to set their sights high for themselves, expectations high for themselves.  And we tell them that if they work hard and do right there's nothing that they can't achieve.

So as a father I thank this team for reaffirming that sentiment, and for setting a good example for every young girl with big dreams.  And as a basketball fan, congratulations on a thrilling year, and good luck next year.