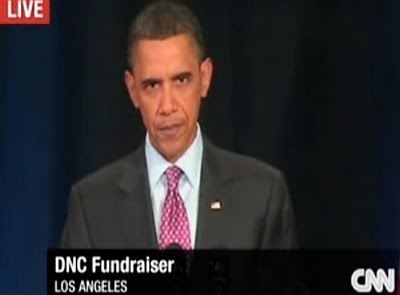 The Democrats seem poised to lose another battle to the invulnerable, unstoppable GOP on Thursday.
Despite strong leadership from House Speaker Nancy Pelosi, Representative Patrick Murphy, Representative Barney Frank, Senate Armed Services Chairman Carl Levin, Senator Mark Udall, Senator Kirsten Gillibrand, as a whole, the Democratic ground troops appear to be unengaged.
Of course, I'm talking about Thursday's vote in the Senate Armed Services Committee on repealing the odious "Don't ask, don't tell" law.
Do Democrats want to see Democrats win? Is the LGBT community's place coalition worth fighting for?
I'm sure many people have the impression I hate President Obama, which is absolutely not true. I worked hard to elect him, campaigning in three states. And at one point I had a great deal of respect and admiration for him, some of which still remains, on his handling of some issues. But his leadership style-on many issues-has left me disappointed. I have made many pointed attempts to hold him accountable to put some work to deliver on the promises he made the LGBT community during the campaign.
In truth, I consider myself as trying to help Obama and the Democrats. I fear that he lives in a bubble on LGBT issues. I fear that his clearly shocked and angry reaction to the Boxer heckling protest is evidence that a bubble had been pierced. Until that evening, it's possible he hadn't been kept in touch with the true sentiment of the LGBT community, who cheered the heckling as often as condemned it.
Karen Ocamb at LGBTPOV has a very sad, scary and disheartening piece on Brian Bond, the White House LGBT liaison working from the WH Office of Public Engagement. If you're unfamiliar with his name, you're not alone. In Bond's 16 months as an LGBT ambassador, he has been a virtually invisible presence in engaging our community. He's been unavailable to our press and our grassroots leaders.

The problem for Obama is – no one knows Brian Bond, except Beltway insiders and selected A-gay "leaders" with whom he apparently holds private meetings to presumably discuss the LGBT "agenda." It is impossible to know what is being discussed because the A-gays do not report back to the community either.

Bond has not sought to engage the larger LGBT community, as Obama ordered, through regular communication with LGBT reporters and bloggers to keep the community up to speed about progress or delays on LGBT issues. Nor, it appears, has Bond sought to learn what is happening on the ground among the grassroots and ordinary LGBT people. If there is a "front door" to the White House, Bond is not holding it open to LGBT people.
Bond's failure to engage our community is self-evident based on the lack of actual digital footprints he's left. One of the few media appearances he has made was to Pam Spaulding of Pam's House Blend, and it really didn't go very far in dispelling fears the White House not was invested in doing more than just talking about our legislative goals with a tiny group of elite, appropriately docile gays.
Anxiety also extends to the idea that Bond is equally invisible and ineffective on the other side of the doors of 1600 Pennsylvania Avenue. Ocamb reports:
Another source familiar with White House politics said Bond is not highly regarded at all. One wonders if he had any say about who was invited to a private meeting with deputy chief of staff Jim Messina – who is the point person on DADT – a meeting to which Servicemembers Legal Defense Network was not invited, though SLDN was originally created as a response to DADT.
I am also worrying a great deal about House Speaker Nancy Pelosi's very confident declarations of the last few days. She told The Hill on Wednesday:
"I don't have any doubt that 'Don't ask, don't tell' will be a memory by the end of this year," she said.
She repeated this promise last night at Equality California's kickoff event for Harvey Milk Weekend at San Francisco's Lesbian Gay Bisexual Transgender Community Center.
"I believe DADT will be a memory by Christmas."
I hope the Speaker realizes a game change is afoot. Many activists are no longer interested in what Democrats believe, they are interested in what they do. Her remarks have been met with elation in the LGBT community, many of whom still take these promises at face value. Those of us looking closely at the situation are not so confident as the Speaker. I certainly hope she knows and sees a less treacherous route through the Senate than has been publicly identified, but it seems Senate compliance with repeal this year is a real long shot. And failure to deliver on the expectations she is creating could kick off a very impassioned response of disappointment and further fuel existing anger in the community.
This week, Democratic National Comittee Treasurer Andy Tobias, no doubt in response to growing disenchantment among LGBT American with the Democrats, released a list of administration LGBT accomplishments. Not without merit, our community would almost certainly grant in unison. But the padding of the list with non-sequiturs to LGBT community (appointed Sotomayor to the Supreme Court? WTF?) and mentions in speechs (um, noteworthy for Clinton in the early 1990s, weak tea in 2010), it seemed tailored to reach a magic number of 30, regardless if there were 30 items to list.
John Aravosis dissected the list on Americablog. An excerpt:
3. Endorsed the Baldwin-Lieberman bill, The Domestic Partnership Benefits and Obligations Act of 2009, to provide full partnership benefits to federal employees

BFD. Endorsed? With all due respect, WTF cares if the President "endorses" some legislation that he's never going to lift a finger to help pass? This is part of the "all talk" nature of the President's, and the Democratic party's, commitment to our civil rights. They believe that talking about giving us rights is the same thing as actually giving us those rights or at the very least, trying to give us those rights.
Furthermore, Tobias wasn't above raising the implied threat of stick with the party, or we'll sick the mean old Republicans on you:
I don't want to see Nancy Pelosi have to hand her gavel to John Boehner, or Barney Frank have to hand his to the gentleman from Alabama.
A tired meme which is basically the political equivalent of saying "Wait until your Father gets home!" (I won't spank you for misbehaving, but he will!) Suffice it to say, this is not Tobias' or the administration's first attempt to talk the community off the ledge, and each time they seem to do more to enrage activists than assuage their anxiety. A not atypical response comment:
"Let me break it down for you, Andy. Obama's pissing on us and telling us it's raining. You'll get a lot more mileage out of telling him to stop pissing on us than trying to convince us it's really raining."
The administration is supportive of allowing the window to attach repeal to the Military Defense Authorization pass which may make repeal impossible until 2013 or later.
And I don't want to see President Barack Obama and the Democrats have to kick off the 2012 elections with nothing crossed off his campaign promise list-not even low-hanging fruit like DADT repeal or passing ENDA, which enjoy unheard of public approval ratings (75% approval for DADT, 89%-89!-for ENDA).
It was a long and ambitious laundry list of promises, a sample of the major ones:
• Repeal DADT
• Pass ENDA
• Repeal DOMA
• Marriage equity via Federal Civil Unions
• Immigration rights for same-sex couples
I do believe the community as a whole recognizes and forgives that not everything can be accomplished. I never myself once believed repeal of DOMA was anything that could be accomplished legislatively before 2020. But that said, there's a Grand Canyon's worth of distance between giving a good old college try, and remaining mute, disengaged and unconcerned, as has been the administration's posture as the fight over ENDA and DADT has heated up. Some Democrats in Congress are fighting hard, but many remain equally unconcerned about delivering on promises the Party's platform has included for years.
It's a coming mess for everyone. By 2012, Democrats will have controlled both houses of Congress for six years and the White House for four. And it's very possible that, legislatively, they will have only delivered The Matthew Shepard Act to the LGBT community. A great accomplishment that we all cheer. But, affirming our right to not be beaten to death is a far cry from delivering affirmation of our full equality under the law.
I don't make a lot of predictions, but I'm pretty certain of this one: If by 2012, ENDA is not passed, and DADT not repealed, the gay community itself will be in disarray. It will split between those who fear Republicans enough to continue supporting Democrats without question.
But another faction will continue to grow who will wonder why those who hold the keys to the Kingdom never have inclination to invite us in? Disengagement and even guerrilla tactics will escalate. On January 31, 1988, Act-Up famously shut down the Golden Gate Bridge during rush-hour. On March 24, 1987, Act-Up NY shut down the New York Stock Exchange, resulting in 73 arrests. And the end result was an apathetic Federal Government was prodded into using their resources at the FDA, NIH and CDC into addressing the LGBT community it had ignored for years. It is natural activists may look back at past successes for the route forward. Stonewall-which delivered to our community the right to free assembly-was a riot, let us not forget.
And the Democratic party will have a mess on its hands as well. And within the larger Democratic party circles there will be fractious fights as well. From the Democratic wing of the Democratic party, leaders like Howard Dean, have stepped up and called "nonsense" on the need to "wait and study more" on our issues. Others will will see nothing amiss.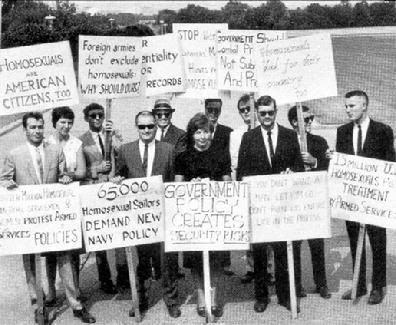 Early gay rights activists assemble at the Pentagon to protest the military's ban of LGBT servicemembers, Saturday, July 31, 1965. leonardmatlovich.com
Forty five years later, activists still protesting the military's ban of LGBT servicemembers. Sunday, May 2, 2010.
The gay community is going to be watching this week's vote closely. And even those who don't follow the ins and outs of committee mark-ups have learned to trust our leaders, and not the mainstream press, the politicians or Press Secretary Robert Gibbs. The leaders will tell the community, the truth: if it dies Thursday in the Senate Armed Services committee, repeal will have been deferred for at least another year.
GetEqual has famously been organizing civilly disobedient protests demanding the address of our issues. In just the last few days actions have occured Washington DC and Chicago., with some getting arrested.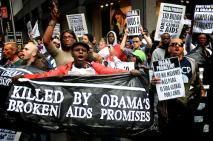 And since arrriving on the scene, GetEqual also seemed to have spurred on copy-cat work from other grassroots activists. In recent weeks, other groups, not affiliated with GetEqual, have mounted civilly disobedient actions at Senator John McCain's office, Senator Dick Durbin's office, and HIV activists used the occasion of a Presidential visit from Obama in New York to stage a protest of HIV funding cuts. These activists share not a common organizer, but rather a common complaint: "Our needs are not being addressed. We are tired of being marginalized and ignored. It is not OK to toss us out of the coalition as was done in the healthcare reform legislation and may well still happen on comprehensive immigration reform. We matter. Our contributions to the coalition are worth fighting for."
This really isn't a threat. It's just an insider's observation. There will be trouble. The gay community has done its work, by making our case to the American people. The poll numbers didn't move themselves, we've made it politically viable for Democrats to vote in our interests. It's time to do it. The solution to avoid all this angst and in-fighting, seems remarkably easy: Pass ENDA, repeal DADT. The valve will release. The storm will turn 180 degrees back out to sea.
This is a cross-posting of a diary posted earlier today at The Daily Kos.