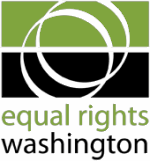 A reliable source informed me late this afternoon that Senator Patty Murray (D-WA) just signed onto The Military Readiness Enhancement Act of 2010 (S 3065), Sen. Lieberman's "Don't Ask, Don't Tell" (DADT) repeal bill. With today's addition of Sen. Murray, the bill now has 29 co-sponsors. The news is still too fresh to be reflected in Thomas or Sen Murray's official bill co-sponsorship list.
Was Equal Rights Washington (ERW), Washington's premiere statewide LGBT advocacy organization a driving factor in getting Sen. Murray to finally take the plunge? Circumstances make the question an enticing one.Last Thursday Thomas Pitchford, ERW's development director was in Washington, D.C. meeting with Senator Murray and her Legislative Director, Evan Schatz to talk about Washington's Institute for a Democratic Future. IDF "develops and promotes emerging generations of Democratic and civic leaders in Washington state".
After the meeting Pitchford recognized that he had a golden opportunity for a brief discussion with Mr. Schatz about how important Sen. Murray's timely co-sponsorship of S 3065 was to Washington's lesbian, gay, bisexual and transgender (LGBT) community. Indeed, there has been some question in Washington about when Sen. Murray would sign onto the bill, since she has been so supportive of military personnel and LGBT issues in past and the clock is ticking. Pitchford articulated our community's concerns.
It can't be overemphasized how valuable are one-on-one conversations like Pitchford and Schatz's. Legislators don't always know what the priorities of the voters are unless the voters speak up. Pitchford spoke up.
On Monday (yesterday), ERW launched an action campaign in support of Veterans Lobby Day, asking ERW members to call Senator Murray and Congressman Reichert to ask for their support for DADT repeal legislation. ERW members flooded the senator's office with calls, and ERW received a landslide of email reports back from members stating that their calls had been well-received.
Also on Monday Pitchford sent a follow-up email to Mr. Schatz, re-emphasizing that now would be a terrific time for Sen. Murray to come together with the LGBT community. Today she did just that.
Given ERW's coordinated efforts with Veterans Lobby Day and the overwhelming response of ERW's members, one can't but wonder whether ERW wasn't a driving factor in Sen. Murray's decision to sign onto the bill today.
Considering ERW's pivotal role in the the passage of domestic partnership, transgender rights, hate crimes, safe schools and anti-discrimination legislation, in the Approve 71 campaign to save the domestic partnership law and now Sen. Murray responding so positively to recent ERW-related conversations and actions, it's fair to conclude that we have an effective statewide organization with impact at the state level, even reaching all the way to Washington D.C.
Full disclosure: I am a contributing ERW member. Join me in supporting Equal Rights Washington's ongoing work. Donate to ERW directly or to the ERW PAC to help ERW provide support to equality-minded candidates for elected office in Washington state. And in the spirit of supporting legislators who support us, consider making a contribution to Sen. Murray's 2010 campaign to help insure her success at the ballot box this November.
Cross-posted at Washblog.