State Rep. Norm Johnson (R-14th) was one of the 93 (of 147) Washington state legislators who voted last Spring for the 2009 domestic partnership expansion law (SB 5688). SB 5688 made Washington state registered domestic partnerships parallel with civil marriage, and was ratified by over 53% of voters on November 3rd via Referendum 71.
Johnson's vote was a most basic expression of family values; he has two gay sons and has personal relationships with gay people in his district. "I feel I voted the right way, because to me it was pure and simple a vote of equality." Similarly, Senator Curtis King (R-14th) stated that his support for full domestic partnerships stems from his appreciation of gay couples in his district.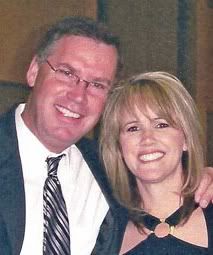 Johnson's vote for SB 5688 has drawn the ire of local business owner Michele Strobel. Addressing the crowd at the One Nation Under God Tea Party* in Yakima last month, Strobel said "I really believe that I am called. And I am seriously considering running for office…This isn't the country I knew when I was young. This isn't the country my grandparents fought for." Johnson is up for re-election in November, 2010.
Strobel's company website quotes her as saying, "Being the person, who likes to give and do things I thought, you know what? I have a huge opportunity to use the talents and gifts I have to help others."
Although over 53% of voters statewide approved R-71, Yakima County voted to reject it 65% to 35%. The vote result for Johnson's district has yet to be released, but it seems likely that Strobel is largely in sync with the district's majority on this issue. The question is, would voters support her candidacy based on her opinion on that issue alone? According to the actions of the state Republican party and the statements of local Republican office holders themselves, the answer is "unlikely".The Washington State Republican Party endorsed the rejection of Referendum 71 (the anti-equality position) but didn't actively support the campaign to reject it. When reading their endorsement press release, "Over the next two months it's important for voters to educate themselves…", one might read between the lines "…because this isn't important enough to us to bother to educate you."
Likewise local party leaders – even those who strenuously opposed SB 5688 – are focusing on Johnson's work ethic, the concrete results he's wrangled for the district and his integrity. The man has clearly earned the respect of this peers.
"There's a chance that he might be (vulnerable)," King said. "But I don't think it's much of a chance. You have to look at all of the votes he took. … He worked his butt off to save the Yakima Valley School. He worked his butt off to get support money for the Pacific Northwest University."

Johnson was the point man on a state funding proposal for Yakima's new Pacific Northwest University of Health Sciences, ultimately succeeding to the tune of $800,000.
Johnson even has the support of attorney Al Schweppe, one of his opponents in the 2008 primary. "I was opposed to [SB 5688]. I would have voted [against it]. But I agree with Norm on 90 percent of his other votes." Similarly, Yakima County Republican Party Chairman Max Golladay has indicated he'll probably support Johnson's reelection, and says "I can't define him by one vote."
But perhaps the most meaningful support for Johnson comes from the other state representative for the 14th district, Rep. Charles Ross (R-14th). Ross labored to defeat SB 5688 in the House Judiciary Committee and on the House floor.

"Constituents as well as other elected officials need to look at the balance of all the votes he took," Ross said. "He represented the district well."

Lawmakers who vote their beliefs knowing they'll take a political hit — whatever the issue — are worthy of respect, he said.

"There is a lot to be said for that," Ross said.
Incidentally, the day after SB 5688 cleared the House Judiciary Committee, the Washington House Republicans quoted Rep. Ross saying, in anticipation of the referendum:

If we put [SB 5688] to a vote of the people and they support gay marriage, then that would be a direct reflection of the will of the people.
So I presume Ross, who conflated SB 5688 with marriage equality much like Protect Marriage Washington did, now supports marriage equality because that is the will of the people as expressed through their ratification of SB 5688.
Strobel says of her potential candidacy "I am seriously considering it but I haven't announced yet". Yakima County Republican Party Chairman Golladay has consulted with Strobel and says, "I counseled her and said, 'You can't be a single-issue candidate,'" It remains to be seen whether Strobel will rise to that challenge or continue her one-note drone. Either way, it seems she'd be up against a well-respected incumbent with hefty party support.

---
*The master of ceremonies at the Yakima Tea Party event, which also featured anti-gay activist Larry Stickney, was Strobel's husband Marc, minister of Selah Covenant Church. The church hit the news in 2005 when its youth minister, James Cannel, was found guilty of receiving and distributing child pornography and using the church computer to try to arrange sex with a detective posing as a 12-year old boy. Marc Strobel got his future wife pregnant when she was still an unwed teen.