With God's help and your support, this battle can be won.

— Gary Randall, February 23, 2009
With few votes left to count and Washington Secretary of State Sam Reed reporting an ever-increasing approval percentage for Referendum 71 (currently 53.1% to 46.9%), it is clear that the Washington electorate has APPROVED Referendum 71. Washington is the first state in the nation to approve full domestic partnerships at the ballot box. Starting December 3, 2009, when the law challenged by the referendum goes into effect, Washington will have domestic partnerships fully parallel to civil marriage in state law. Over 6,300 pairs of Washington State Registered Domestic Partners can begin to enjoy virtually all of the state-level rights, responsibilities and obligations that married couples do.
From the beginning, the radical-right evangelicals behind Washington state's Referendum 71, have had the shared delusion that God takes sides, and favors them. Oregonian Gary Randall said on July 1, 2009:
(emphasis mine)

With your hard work and God's blessing, I believe we will succeed.
On Wednesday, July 22, 2009 as Randall and Stickney embarked on their campaign to hobble families:

Please join in prayer today that God will bless the effort and give us the needed signatures to put this issue on the ballot.
Upon subsequently obtaining a sufficient number of raw signatures to submit the Referendum 71 petitions to the Secretary of State, Randall jumped to this arrogant conclusion on Tuesday, July 28, 2009:

We are grateful to all of you who worked so hard and to God for His help.
On September 4, 2009 he said

I have an abiding sense that God is leading in all things.
In recruiting people to circulate campaign fliers he said, on September 11, 2009:

I am certain God is in control
And finally, on October 21, 2009 just before the election, Randall said:

…this effort has been blessed…
And finally, on November 6, 2009 when it was clear that R-71 would be approved, Randall deployed God in the pursuit of his new anti-gay project:

I believe God has called me to this and I believe He will guide us and provide the necessary funding. Please consider a tax deductible donation to Faith and Freedom Foundation. Thank you and God bless you.
Randall was joined by Mr. "God will get all the glory!" Ken Hutcherson, who undeservedly (and painfully prematurely) wrapped himself in the cloak of God's favor, saying on Monday, July 27, 2009:

Thank you for praying for Washington state! Enough signatures have been gathered to try and repeal SB5688 (Everything but Marriage).

God proved He doesn't need certain shepherds from certain churches to get His will done!
Larry Stickney, Gary Randall's Washington operative, apparently also believes that God was a deciding factor in the referendum effort: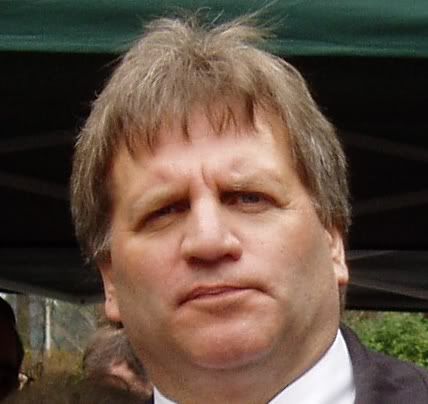 "We're believers. We're gonna pray this one in."
And indeed, Stickney literally exhorted his followers to "pray in a victory" after early returns showed that R-71 was heading towards approval.

As you may know, we have seen amazing things happen at every critical juncture of this campaign. Please join me today in getting down on our knees to lift up this effort to our Lord and Saviour Jesus Christ.

Let's pray the REJECT R-71 effort across the finish line! Every family and church in Washington now and for years to come will benefit from our efforts if we win! Pray that we are in the lead by the end of today's counting!
As I said at the time, for God to influence the election after ballots have been cast would require God to change people's votes. Thus, Stickney wanted God to tamper with ballots. Apparently God isn't into felonious activities, since He did not deliver unto Stickney such ill-gotten gains. I wonder why Stickney has deleted that post from the Protect Marriage Washington website.
If God really does take sides, and given that Randall & Stickney (not to mention Rep. Matt Shea & Sen. Valera Stevens) lied that the referendum was about civil marriage and not about domestic partnerships, the take-away message from the Referendum 71 experience is this:

God endorses marriage equality, and has spurned those who would twist His word into an instrument of judgment and vindictive hate. Perhaps Pastor Joe Fuiten was on to something when he said:
God is not coercive…The idea that people ought to be free to live their life and live the way they want to – I don't object to that.
Too bad Fuiten ultimately turned his back on Him a few weeks before the election by endorsing the referendum Rejects. If you ask me, Fuiten is a lost and conflicted soul to be pitied.
Now that God has eschewed hate and endorsed civil equality for gay, lesbian, bisexual and transgender couples, Gary Randall and his colleagues have a choice. They can either accept God's endorsement of marriage equality, or turn their back on their Creator and continue to scorn his beloved children.Update: Here're Larry Stickney's and Gary Randall's concession messages. Odd that there's no mention of God, just the usual flinging of feces at Teh Homosexshuls.
Stickney:

REJECT SB 5688 Effort Comes up Short

Arlington, WA, November 9, 2009 – I write today to acknowledge that our amazing campaign to turn back SB 5688, has, sadly, come up short. While the last of the votes are still being counted, we are at a point where we simply cannot prevail over the slight majority of Washington voters (mostly residing in King County) who have voted to Approve SB 5688.

We were greatly outspent and dragged through numerous signature counts and courts by our opponents and not one editorial board that I know of backed the REJECT R-71 effort! Yet we determinedly carried forward our mission to defend marriage in Washington – and progress has been made in spite of the loss!

Click here to read an interesting article from Sunday's Everett Herald "Gay marriage issue can wait, say Referendum 71 partisans".

As one of our campaign spokesman, Bob Struble noted in the Catholic Exchange today:

"Although we lost narrowly in the Evergreen State, we did give our opponents a run for their money – several times more money than our backers were able to raise. We won 29 of 39 counties, notwithstanding that most politicians, big corporations, and mainstream media were arrayed against us. We lost by only about five percentage points in a state where, due primarily to Seattle's King County, the political climate is foul – possibly the worst environment for cultural conservatives among the 50 states. Last year, some 58% of Washington voters approved an assisted suicide law, and in 1998 a ban on partial-birth abortion was rejected by 57%."

While we ended up losing the popular vote, we have succeeded in many, many ways. We won nearly 48% of the vote, defying a hostile state political establishment and liberal media machine! Without question, people of faith and social conservatives have been revived as a political force in Washington.

With a grassroots campaign short on money but big on heart, we did much with little as we focused our limited campaign funds on yard signs, campaign literature, radio and cable television ads. The courageous Bible-believing churches and organizations that we worked with performed magnificently.

As we noted in our November 3rd press release, "R-71 has identified upwards of 200,000 people who are willing to take action to protect marriage, the family and children. It has also identified a legal team that has won victory after victory, a team that will now defend R-71 petition signers and their right to anonymous political speech before the United States Supreme Court."

We continue to believe that we can and will win future battles decisively if we continue to persevere even in the face of adversity. It is obvious that much work remains to be done here in Washington, especially in King County.
Randall:

One more thought as we move forward

As the vote count winds down on R-71, the implication of the many events surrounding the campaign will linger. And we will put it all in perspective—proper perspective.

As we attempt to properly do so, words are not adequate to express my personal gratitude to all who worked tirelessly and gave so much of themselves to this effort. Your email of personal support, particularly over the past 24 hours, are deeply appreciated. I am honored to have worked with you and look forward to doing so in the near future as we move forward.

Among the many active in the R-71 campaign is Robert Struble, Jr. Bob passed out flyers and participated in 10 debates. He is a published author, with a history of political experience.

He has written an article giving his perspective on R-71, what we did, what it means and what we must do as we move forward. His article was published yesterday in the Catholic Exchange, titled, "Defending Traditional Marriage: Washington State vs. Maine".

In it he says, "Informed observers now expect that the Washington State Supreme Court will mandate marriage licenses as well on constitutional grounds. The 'Justices' will draw the newly enacted bill from their jurisprudential quiver to kill the concept of marriage affirmed throughout history. Thus they will continue the deconstruction of our Judeo-Christian heritage."

"Because," he says, "Washingtonians cannot amend our constitution directly, we the people cannot overturn constitutional rulings by the Court."

Many of us who worked together on this effort are preparing for the next step. I strongly recommend you read Struble's article for a healthy perspective of what happened in R-71 and what it means moving forward.

__________

Gary Randall

President

Faith & Freedom