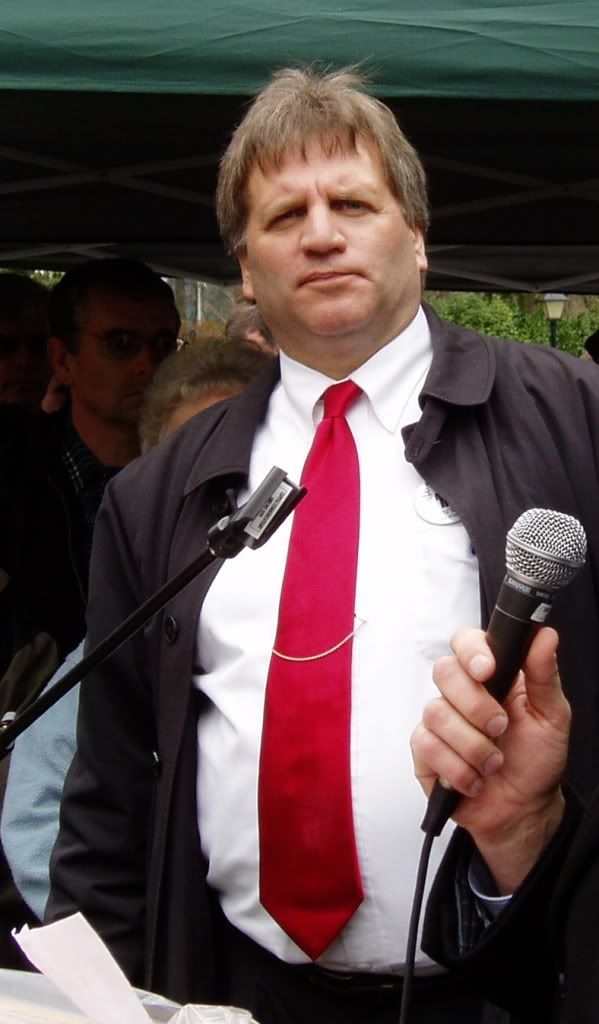 Protect Marriage Washington has filed their Summary, Full Report Receipts and Expenditures, or "C4 report", for July, 2009. Protect Marriage Washington is the organization trying to force a referendum vote to repeal the new domestic partnership law in Washington. To preserve the DP law, voters must vote APPROVED if Referendum 71 qualifies for the ballot. See Washington Families Standing Together for details.
PMW's C4 report contains some items of interest.

1. Larry Stickney again received a handsome salary, and even got his son in on the cash action this time.

2. Protect Marriage Washington failed to name people they accepted cash contributors from in early August. They are identified only by their initials.

3. There remains no indication who their mercenaries paid signature gatherers were, or who paid them.
UPDATE: New info on item 2, below the fold.1. Larry Stickney's handsome salary.

Those "grassroots" sure are well fertilized. And, "nepotism", anyone? Larry Stickney received $5,150 is salaries and wages in July. This was a bit of a come-down from his take of $6,500 in June, but Larry's salaries alone amount to almost 43% of all of PMW's expenditures to date. That is a terribly high rate of expenditure on non-program services. But I guess you can't accuse him of only looking out for Number 1, since starting in late June another Stickney turned up on the payroll. Son Matt was paid $1,050 in wages. Who would begrudge a kid a summer job? Not me. But the fact that the only other person paid wages by PMW was the son of its chief cook and bottle washer indicates that this is as much a cash cow operation for its leader as it is a sacred mission.
The combined Larry & Son wages and salaries amounted to over 45% of PMW's expenditures to date. Shades of Gary Randall, eh?
2. Hiding donor identities

The eight people reported to contribute cash to PMW thus far in August are identified as:


| | | | |
| --- | --- | --- | --- |
| Name | Address | Date | Amount |
| L. D. | CHEHALIS, WA 98532 | 8/1/09 | $100 |
| H. C. | CAMAS, WA | 8/3/09 | $100 |
| P. T. | WA | 8/3/09 | $100 |
| P. V. | CHELAN, WA 98816 | 8/3/09 | $71 |
| R. B. | WA | 8/4/09 | $50 |
| W. R. | WA | 8/4/09 | $25 |
| K. K. | WA | 8/5/09 | $50 |
| W. R. | WA | 8/5/09 | $71 |
The first three of these donors, L.D., H.C. and P.T., each contributed $100. State code clearly states that

(b) The name and address of each person who has made one or more contributions during the period, together with the money value and date of such contributions and the aggregate value of all contributions received from each such person during the campaign or in the case of a continuing political committee, the current calendar year: PROVIDED, That pledges in the aggregate of less than one hundred dollars from any one person need not be reported…
This is the first time PMW has chosen this strange method of not reporting the names of contributors. They've previously even named people who contributed as little as $20. Even Gary Randall's Faith and Freedom PAC has disclosed the names of their August donors.
The purpose of the public disclosure laws is to help prevent illegal or unethical campaign finance activity. The Public Disclosure Commission itself was created by an Initiative to the People "to provide timely and meaningful public access to accurate information about the financing of political campaigns, lobbyist expenditures, and the financial affairs of public officials and candidates, and to ensure compliance with and equitable enforcement of Washington's disclosure and campaign finance laws." If Larry Stickney really believes in "the will of the people", he'll hew to the campaign finance regulations they set in place and disclose the identity of his contributors just like everyone else does.
UPDATE:
PMW posted this henny penny cluck on their website. Q: if alleged threats to campaign officials or supporters warrants hiding the identity of donors, does that mean that Mr. Pidgeon supports President Obama's campaign donors being anonymous? After all, Obama receives death threats daily.

R-71 Campaign Requests Emergency Hearing to seal names of donors

PRESS RELEASE

Monday, August 10, 2009

Contact: Stephen Pidgeon, Phone: Telephone (425) 605-4774

R-71 Campaign Requests Emergency Hearing to seal names of donors

Protect Marriage Washington has submitted a letter (see below) to the Public Disclosure Commission to grant an Emergency Hearing and to otherwise seal the names of donors to the R-71 campaign as a result of threats of violence, including Bellingham, Washington resident John Bisceglia's nationwide inciting to use violence against churches, government property, and ALL of those working on the R-71 campaign. He goes so far as to urge people to get guns and kill. Protect Marriage Washington has not as of yet received a response from the PDC.

August 6, 2009

Public Disclosure Commission

711 Capitol Way, #206

PO Box 40908

Olympia, WA 98504-0908

RE: Request for an Emergency Hearing for Suspension or Modification of Reporting Requirements – Donors to Protect Marriage Washington and the R-71 campaign

Dear Commissioners:

I represent the interests of the Protect Marriage Washington, the organization that has spearheaded Referendum 71 ("R-71). Protect Marriage Washington is now making a written request for an Emergency Hearing for Suspension or Modification of Reporting Requirements, and asking that any disclosures made prior to any hearing be held under seal..

The reason for the emergency request is because of recent threats levied by opponents to the measure against the lives and property of principals involved in this Referendum at any level.

On August 3, 2009, the following threat was retrieved from the website Queer Equality Revolution http://gaytaxprotest.blogspot…. blogger and Bellingham, Washington resident John Bisceglia making the following threat:

"I advocate using violence against the property of ALL of those who are working tirelessly to HURT my family; starting with churches and government property. Government is enabling a vote on whether or not I "should be allowed" to see my husband [sic] while he is dying in the hospital – any NORMAL man would be driven to get a gun and kill those who tried such evil cruelty against his loved ones."

This matter has already been referred to the FBI, because on its face is the incitement to use violence against potentially the Federal Courthouse in Tacoma, and a Federal Judge (and may include a threat against the PDC, the Secretary of State and so on). This is a true threat to the lives and property of those people who support the referendum process – in this case, to validate the actions of the state legislature to modify 201 statutes in a single bill.

The state of Washington has defined true threats:

A "true threat" is a statement made "in a context or under such circumstances wherein a reasonable person would foresee that the statement would be interpreted . . . as a serious expression of intention to inflict bodily harm upon or to take the life of [another individual]. State v Knowles, 91 Wash. App. 367, 373, 957 P. 2d 797 (1998).

The fear of harm aroused in the person threatened and the disruption that may occur as a result of that fear are some of the reasons why true threats are not protected speech. [Citation omitted]. That fear does not depend upon whether the speaker in fact intends to carry out the threat. For this reason, we hold, along with the vast majority of courts, that the First Amendment does not require that the speaker intend to carry out a threat for it to constitute a true threat. State v. Kilburn, 151 Wash. 2d 36, 46, 84 P. 3d 1215 (2004).

According to RCW 9A.46.020, a person is guilty of felony harassment if they threaten to kill a person without lawful authority. A reasonable person would take the statement about getting a gun and killing people who support R-71 as a true threat.

Given the scope of the threat to include "ALL of those" working with the R-71 project, Protect Marriage Washington now seeks an Emergency Hearing to Modify Reporting Requirements to redact or otherwise seal the names, occupations and addresses of those persons and entities required to be listed on form B, form C3 and form C4.

Attached as Exhibit 1, please find the website posting of John Bisceglia as referenced above. Attached as Exhibit 2, please find an additional posting by John Bisceglia naming Gary Randall and Larry Stickney as the recipients of Bisceglia's anger and harassment. We note that the threat set forth above is also an incitement to violence by others.

In addition, there have been clear threats by whosigned.org to intimidate voters and prevent signatures. The Secretary of State's own website posted the following:

Spokesmen for the new project [whosigned.org] say they want voters to think twice about signing the petitions and that opponents of R-71 should be able to talk with their neighbors and townspeople who signed to explain the ramifications.

http://blogs.secstate.wa.gov/F… . . .(The Secretary of State may have removed this link).

Here is another threat:

"whosigned.org will fix YOUR little red wagon. We [meaning whosigned.org] shall boycott the businesses of EVERYONE who signs your odious, bigoted petition. Rest assured of THAT. Father Raymond Superior (retired), Community of the Resurrection." quilisma@cox.net This e-mail address is being protected from spambots. You need JavaScript enabled to view it

Here is another threat:

"You [sic] better stay off the Olympic peninsula. It's a very dangerous place filled with people who hate racists, gay bashers and anyone who doesn't believe in equality. Fair is fair." rockettrike@rocketmail.com This e-mail address is being protected from spambots. You need JavaScript enabled to view it

Pursuant to RCW 42.17.370, commission shall find that a manifestly unreasonable hardship exists if reporting the names required under 42.17.341 "would be likely to adversely affect the competitive position" of the entity filing the report. There can be no question that death threats, threats to destroy property, threats to kill with a gun, and the inciting of violence in national blogs against named supporters of R-71 are "likely to adversely affect the competitive position" of R-71 proponents.

Given the possibility of the commission of serious crimes resulting from the publication of the names of the donors supporting R-71, Protect Marriage Washington furthers seeks written confirmation from your office that any names and addresses required to be disclosed on forms B, C3, and C4 will be sealed from public disclosure until such a time as the Commission can hear this request.

We look forward to your response.

Sincerely,

Stephen Pidgeon

Attorney at Law, P.S.
3. The Mystery of the Mercenaries

We know that PMW employed paid signature mercenaries, because reputable witnesses documented their interactions with them, newspapers have written about them, and one mercenary even admitted to lying to voters for PMW on tape. Yet curiously, PMW fails to mention any related expenditure or in-kind contribution. Ditto for Faith and Freedom PAC, the Oregon-based organization also trying to force Referendum 71 on the ballot. I'm pretty sure that the mercenaries didn't pay themselves, so who paid for their services, and why aren't Larry Stickney or Gary Randall reporting those expenses as mandated by law?
~~~~~~~~~~~~~~~~

Related

* Paid Referendum 71 Signature Gatherer is Baldfaced Liar

* Protect Marriage Washington Using Paid Signature Gatherers

* Gary & Larry's Financial Priorities

* Gary Randall just can't play it straight
Referendum 71 voters will be asked to approve or reject the domestic partnership law.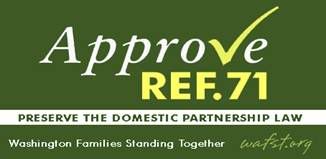 REFERENDUM 71

Ballot Title

Statement of Subject: The legislature passed Engrossed Second Substitute Senate Bill 5688 concerning rights and responsibilities of state-registered domestic partners [and voters have filed a sufficient referendum petition on this bill].

Concise Description: This bill would expand the rights, responsibilities, and obligations accorded state-registered same-sex and senior domestic partners to be equivalent to those of married spouses, except that a domestic partnership is not a marriage.

Should this bill be:

Approved ___

Rejected ___

Ballot Measure Summary

Same-sex couples, or any couple that includes one person age sixty-two or older, may register as a domestic partnership with the state. Registered domestic partnerships are not marriages, and marriage is prohibited except between one man and one woman. This bill would expand the rights, responsibilities, and obligations of registered domestic partners and their families to include all rights, responsibilities, and obligations granted by or imposed by state law on married couples and their families.
DONATE TO WASHINGTON FAMILIES STANDING TOGETHER !

PRINT AND DISTRIBUTE HANDOUTS AND PLACARDS !